Want to get more direct bookings?
Here's How!
Promote your establishment now with UK Tourism Online and start to get direct bookings straight away!
With over 20 years of experience of online advertising within the Tourism industry we take pride in getting results for your establishment. We ensure that the bookings come direct to you with NO commission to pay. We charge a one off annual payment (with packages from as little as just £11.50 per month) and as well as fully promoting your business we will also include regular updates and handy extra tips at no extra cost! Simply select the pack that best suits your requirements and we'll do all the work for you, from writing up a unique description to adding all the necessary links including the link to your own booking system.
Here at UK Tourism Online, we provide a gateway for direct bookings for our customers and are constantly working on new ways to attract more direct booking guests for your accommodation, along with our new look website we also offer additional services such as domain names, hosting, industry specific website design and social media creation/management.
How we promote and showcase your establishment for you:
This is the advert that will feature on the town pages in a list view

The listing features:
Accommodation Colour: Red - Serviced / Green - Guest Accommodation / Gold - Self Catering / Blue - Camping.
Thumbnail image.
Establishment name.
Telephone number.
Sub Info - Type, Sleeps, Units (Self Catering).
Choice of 4 icons for Pets Allowed, Wi-Fi, Parking & Disabled Access.
3 Buttons for main advert page, website and online book system.
Your lowest price from.
Tariff.
Your establishment listing page with its own web address: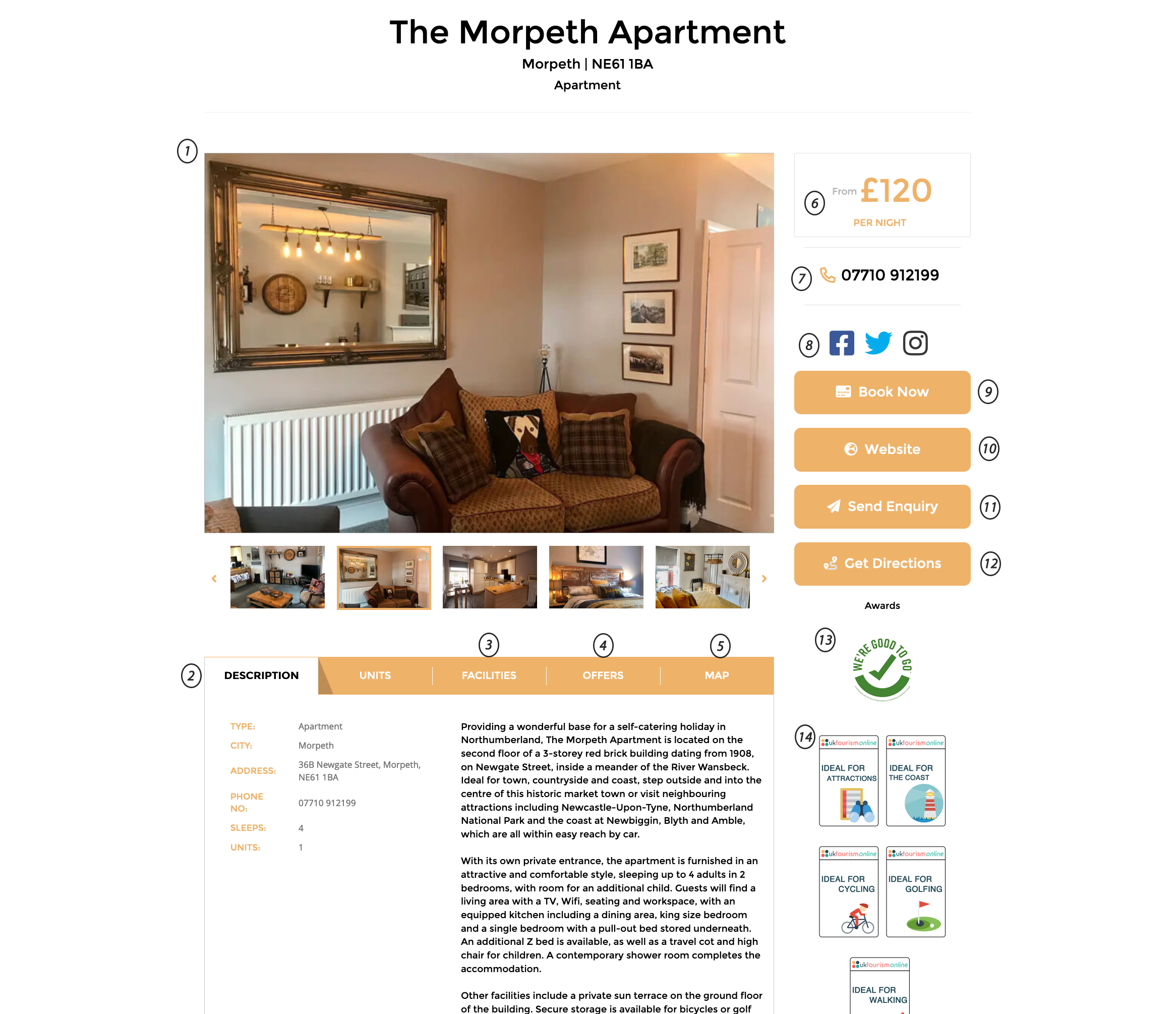 The listing features:
1. Slideshow of up to 5 images showcasing your establishment.
2. Description tab adding as much detail as you like about what makes your accommodation the best.
3. Facilities tab to list all of your features in icon style, including extras for Camping accommodation. Click here to view the full list. Icons can be added and removed at anytime upon request.
4. Special Offers tab to add direct booking button, PDF's or promo codes to run alongside your current promotion(s). These can get edited at anytime and removed on your timeframe.
5. Embedded Google map showing where you are.
6. Your lowest price and tariff. For accommodations that offer multiple tariffs you can add an extra 2 prices and tariffs.
7. Telephone number for direct enquiries. A secondary contact number can also be added.
8. Links to your social media profiles.
9. Direct Booking Button, linking through to your booking system of your choosing. Reminder UK Tourism Online DOES NOT take any commission from bookings.
10. Link to your official website.
11. Link to enquiry page, that features map of your location, contact details and a contact form.
12. Directions link to Google Maps pre-setting the establishment's location.
13. A vast amount of awards that can be added, from Good to Go award to TripAdvisor Travellers Choice, Green Tourism Awards to AA Rosettes & more! These can be added and removed and anytime upon request.
14. Special UK Tourism Online Ideal For Badges. For those establishments that are located near the coast, or for the ones that want to shout out about being close to filming locations. Click here to view the full list. Ideal for badges can be added and removed at anytime upon request.
Images
Advertise with attention-grabbing larger and higher quality images to showcase your establishment.
Social Media Profiles
Prominent and direct social media links which open in the app on the browser's device / phone, to promote and encourage follows, shares and likes; providing an express way to interact with customers
Facility Icons
A more comprehensive breakdown of your facilities. If you've got it, we can shout about it!
Ideal for Badges
New 'Ideal For…' badges such as Ideal For Attractions, Ideal For Walkers and Ideal For Coast.
Industry Rating Badges
Industry rating badges for every possible accolade you might have, we can add to your listing.
Direct Calling
Direct call buttons – by just tapping the phone number on screen, customers can call to book!
Book Button
A 'BOOK NOW' button going directly through to YOUR OWN booking system or availability page on your website! – NO COMMISSION! Now linked to your Room breakdown too!
Directions
Enhanced, fully interactive route planners which open the end user's device with their pre-sets.
Special Offers
An all-new Special Offers / Late Availability section on your page. Add and remove as you like to let customers know your latest deals!